65″ OUTDOOR TV
The SXOBH-65-3 is the best outdoor Full Sun 65″ TV waterproof monitor on the market. It is representative of the most advanced technology available today for a 65″ outside TV. Our Optically Bonded high-brightness 65″ monitor screen features 2,500 nits screen brightness. This enables users to see sharp video images, even with bright sunlight shining directly on the screen. Thanks to our special polarizer, our high brightness monitor operates in both Portrait and Landscape modes. Our SXOBH-65-3 features a fully-sealed, corrosion-resistant enclosure. Furthermore, it has an IP66/NEMA 6 rating. We offer the ultimate solution for 65″ Outdoor TV or 65″ Outdoor Digital Signage use. Consequently, It has gained popularity for challenging industrial environments indoors. Lastly, Remote-Monitoring is supported via IP-addressable user interface for temperature, humidity and power draw diagnostics of the display.
ULTRA HIGH BRIGHT OUTDOOR TV SCREEN 2500 NITS
OUTDOOR LCD DISPLAY
The SXOBH-65-3 Sunlight Readable outdoor TV monitors are extremely rugged. We design the 65″ Outdoor Digital Signage with true industrial-grade components. For instance, the rugged corrosion-resistant aluminum enclosure is rated IP 66 (NEMA 6). Displays are completely sealed against water, moisture, dirt, sand, metal shavings and insects. SXOBH-65-3 has a patented thermal control system which keeps the monitor cool in summer and warm in winter.
65″ OUTSIDE TV MONITOR WITH EXTREME OPERATING TEMPERATURES
The SXOBH-65-3 high brightness displays are designed to operate in nearly any environmental conditions. Whether in frigid temperatures or blazing heat, these sunlight displays will survive and thrive. To clarify, these outdoor monitors will operate in temperatures down to -31°F (-35°C). They will also withstand brutal heat. Moreover, operating temperatures go up to 140°F (60°C). Another key factor is that the internal LCD panel is actually rated to 230°F (110°C). This is far higher than nearly any other LCD panel available today. This ensures that the monitor will never experience isotropic black-outs, where the screen turns dark due to excessive heat. This is a major problem for standard LCD monitors. These special LCD panels enable our SXOBH Series monitors to operate in the hottest environments on earth!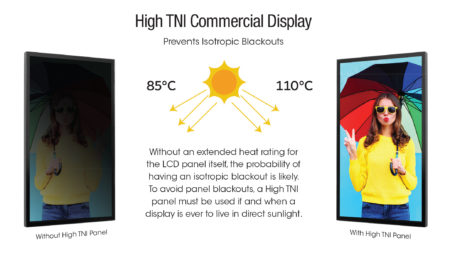 FULL SUN 65″ TV: WATERPROOF OUTDOOR DISPLAY USED WORLDWIDE
Our 65″ Sunlight Readable 2500 nit screen brightness monitors deploy into a wide range of demanding industries. For example, military, law enforcement, digital signage, and sports stadiums benefit. You will also find them in inspection, amusement parks, on ships, and in train and bus stations, TRU-Vu monitors are backed by our full 3-Year Warranty. We ensure you of many years of reliable service.
VIDEO: See our SXOBH Series Monitor in action, washed down by a fire department hose below.
TRU-VU IS READY TO HELP YOU FIND THE BEST WEATHER PROOF OUTDOOR TV MONITOR
With over 200 LCD monitors and touch screens on our site, selecting the ideal equipment, or Full Sun 65″ TV may be a bit overwhelming. To help narrow-down the choices, check out our Advanced Search Tool. For example, this enables you to filter by your own specific search requirements. See our full line-up of industrial-grade Sunlight Readable and Daylight Readable. This highlights all of our high brightness monitors. Shop by size 21.5″ to 65″ monitors , or see our full line of Waterproof Outdoor Monitors. Also visit our wide range of LCD monitor mounts and stands to complete your installation. Custom OEM LCD Displays and Private Label Monitors are also an option if you have specific requirements.
Finally, our team members are ready to help! We can determine the exact 65″ Outdoor Digital Signage or Outdoor TV that will meet your specific needs . Certainly, TRU-Vu will help provide crystal-clear images for your operating requirements . Call (847) 259-2344 today to speak with one of our specialists. Above all, we will listen. It's one of the things we do best. Our professional advisors will ensure the 65″ outside TV you receive will be and do everything you had hoped it would!
If you prefer, fill out a quick form with your requirements, and we will guide you to the proper models that will work best.