KONTECH has a research and development team composed of top technical talents in the industry. With a deep understanding of materials, craftsmanship and electronics, we design outdoor TVs that can withstand a variety of harsh environments, ensuring that you always have the best viewing experience when entertaining outdoors.Every KONTECH Outdoor TV goes through rigorous testing and quality checks to ensure you get the most reliable product that will work as expected no matter the environment.

KONTECH pays attention to user experience, we constantly pay attention to customer feedback and needs, and integrate them into product design. Our user interface is simple and easy to use, and the intelligent control system allows you to easily enjoy the fun of interconnection. Whether it's an outdoor party, camping adventure or watching an important game, KONTECH Outdoor TV will provide you with the perfect entertainment experience.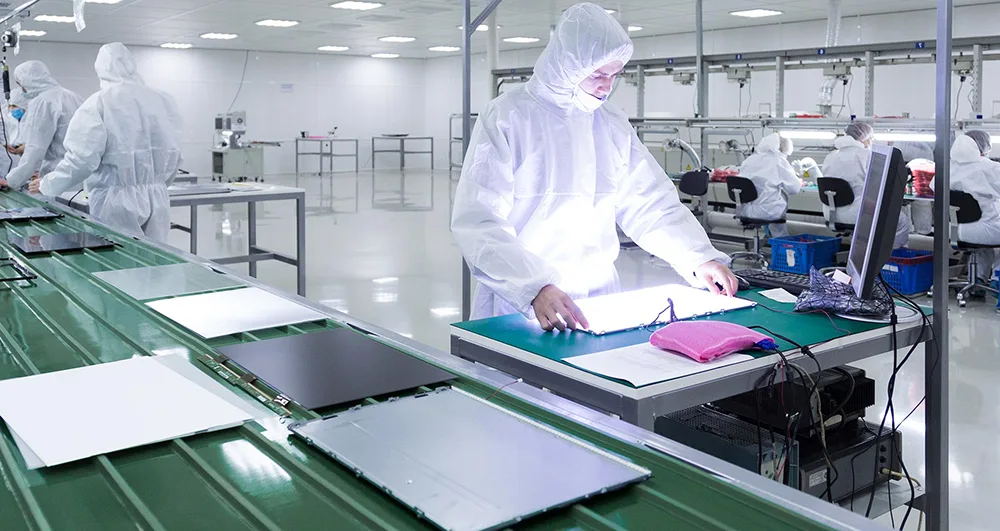 KONTECH is committed to environmental protection and sustainable development. We use environmentally friendly materials in the design and manufacturing process and strive to reduce our impact on the natural environment. By optimizing energy efficiency and resource utilization, we aim to provide you with efficient outdoor TV solutions while being environmentally responsible.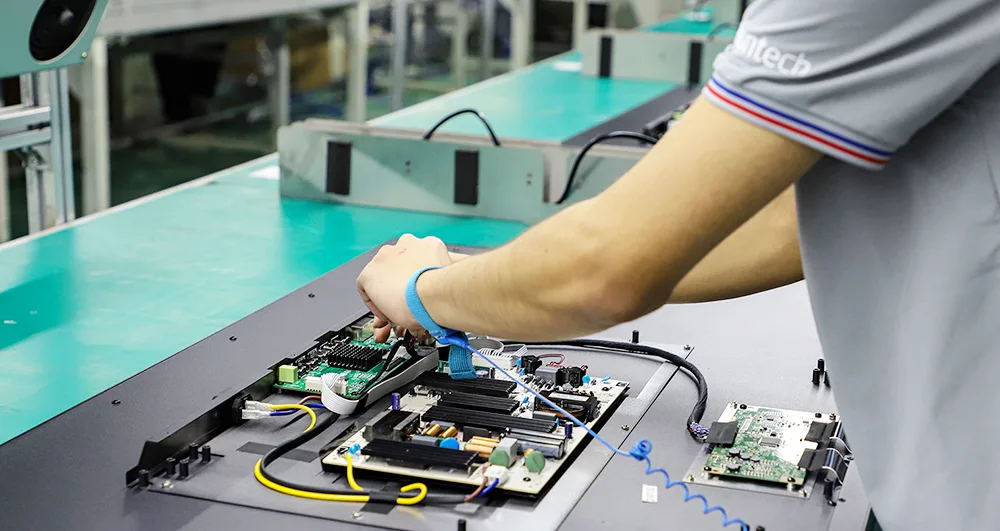 KONTECH takes technological innovation, quality assurance and user experience as its core values, constantly challenges itself and pursues excellence. We believe that excellent products and excellent service will become the basis for KONTECH to win the trust of customers. Choose KONTECH, you will have a really powerful outdoor TV manufacturer as your perfect partner for outdoor entertainment
Kontech Outdoor TV Technology
1.Wi-Fi and Bluetooth technology, make your outdoor TV experience seamless through wireless connection to your favorite content providers.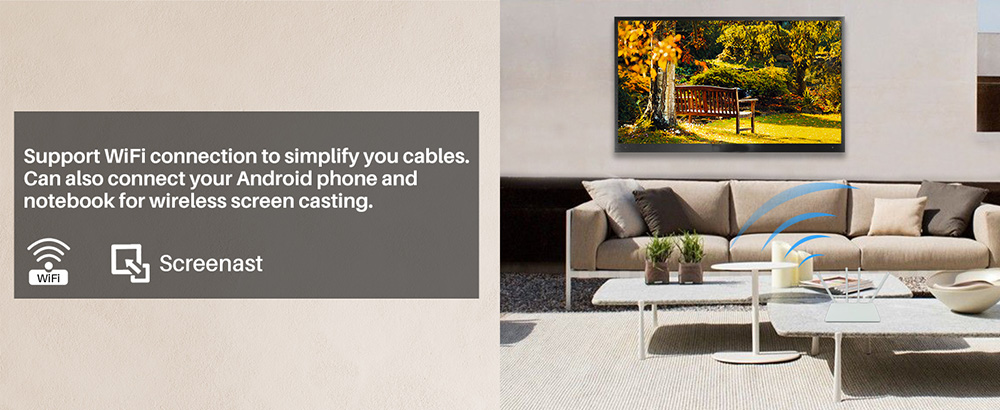 2. Screen mirroring technology, just tap your phone to view mirror images of your favorite mobile apps, videos, etc. on the TV.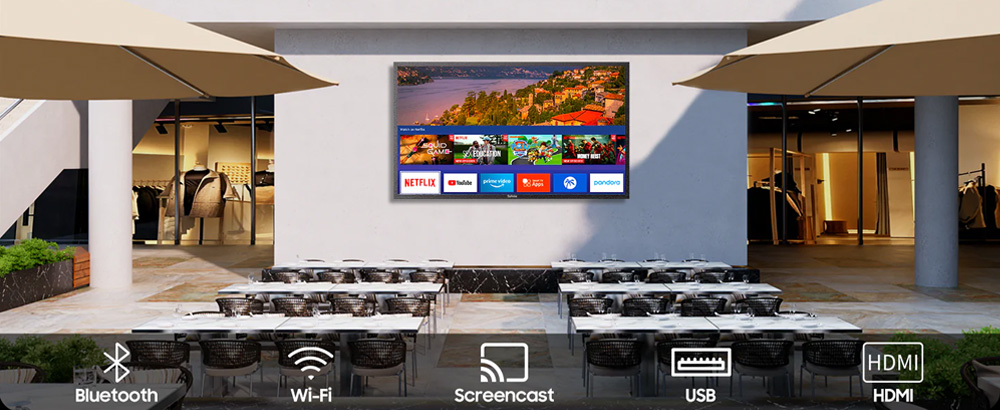 3. Durable design technology, withstand all weathers, can withstand temperatures ranging from -22° to 122°F, anti-corrosion, anti-scratch, high-quality metal materials, designed for year-round operation in harsh environments.

4. Super bright technology, 3 times brighter than indoor TV, the brightness can reach up to 1000nits, providing ideal viewing experience in brighter outdoor environment.

More entertainment configuration
Built-in up to 38 apps including Netflix, YouTube, Prime Video. Also allows yuc to connect Firestick, Roku, Chromecase to access Youtube TV, Hulu and Apple TV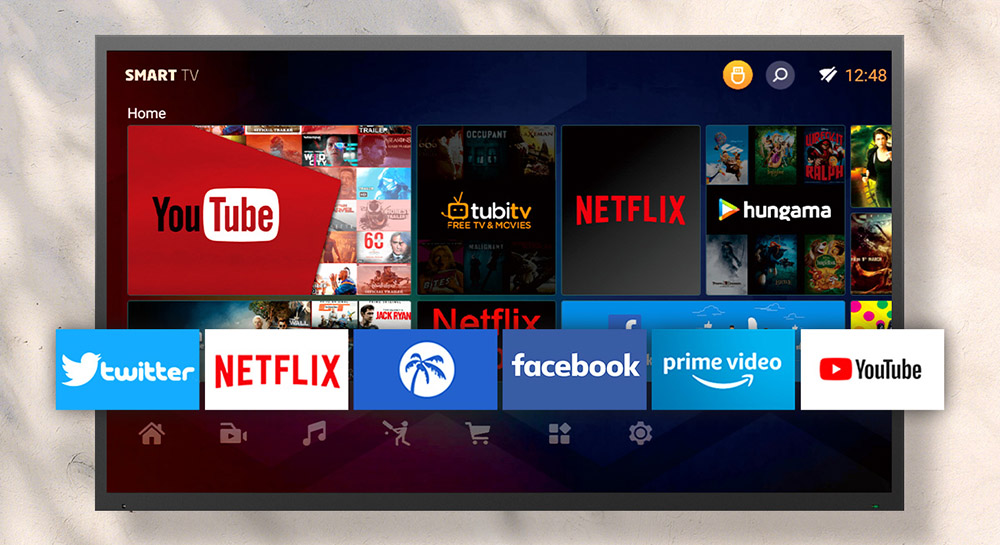 Better compatibility, HDMI allows you to connect multiple devices such as game consoles, Fire Stick or streaming devices like Roku

Experience vivid TV picture quality with commercial-grade 4K UHD, 4x 1080p resolution, and enjoy details even outdoors in partial sunlight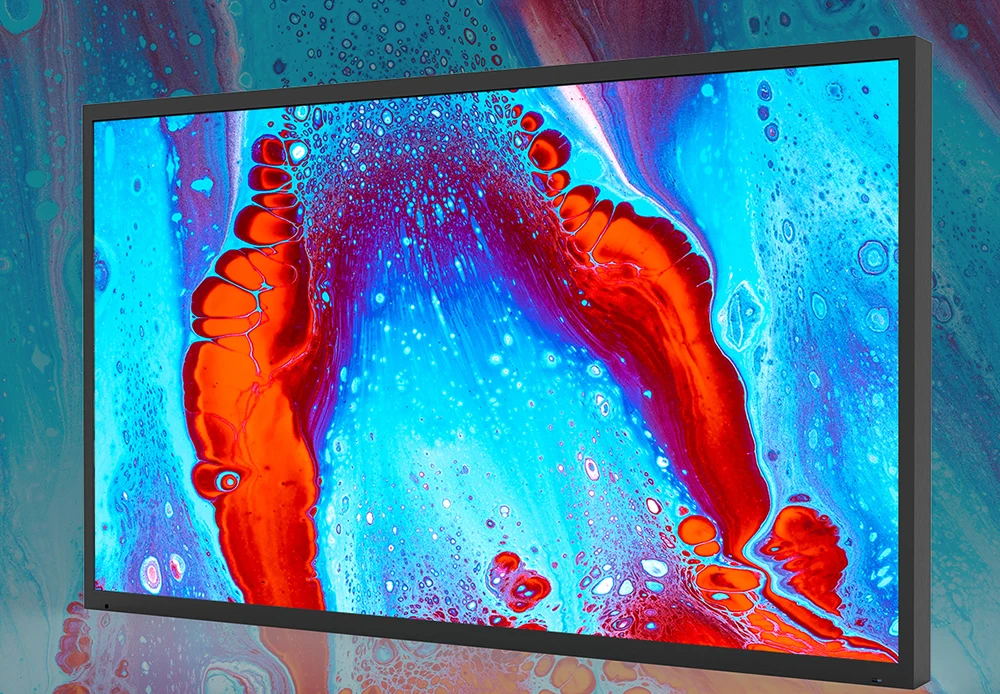 Accurate color, ultra-wide color gamut, restore the most authentic color, present more realistic images and videos, with richer details, more depth, and more vitality.


high dynamic range
Allowing for a wider range of brightness and color, this can produce more realistic images and videos with more detail, depth and vibrancy.