''Government is the leader of smart city construction and the cornerstone of city operation. Therefore, building ' smart government ' is the top priority of smart city construction.''
With the development of E-Government informationization in China, the internal structure of the government, government management mode, government service mode, government operation method, etc., has realized the transformation from traditional to intelligent, intelligent direction, digital government has emerged, intelligent government ushered in new development.
What is Smart Government
Smart government is a new stage of modern government development under the rapid development of the Internet. Compared with traditional government affairs and e-government affairs, a more intelligent smart government affairs system can provide the public with smarter services through smarter decision-making. Smart government mainly relies on the rapid development of new computer application software technology, and integrates advanced technologies such as big data, cloud computing, Internet of Things, artificial intelligence and mobile Internet. Through monitoring, integration, analysis and intelligent response, the highly integrated resources of various functional departments are realized, and the government ' s business processing and management efficiency are improved, so that the government ' s business office is more transparent, efficient, open and convenient for people.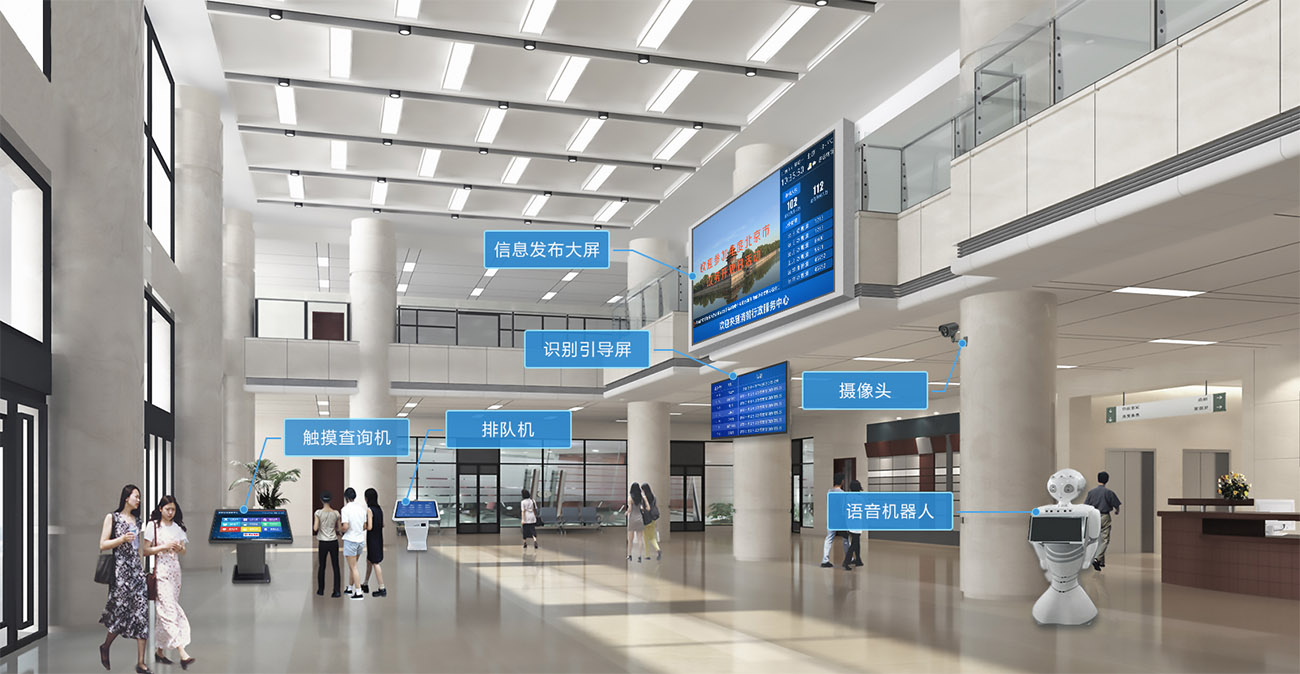 Solution of Government Service Hall under Smart Government
One of the goals of the government to build smart government is to improve service quality and build a service-oriented government. To provide good service, we must be close to the masses, and the government service hall has a natural advantage in this regard. The intelligent self-service terminal in the government affairs hall provides citizens with a clear, simple and clear handling process, and solves the problem of low efficiency in the traditional way of handling government affairs.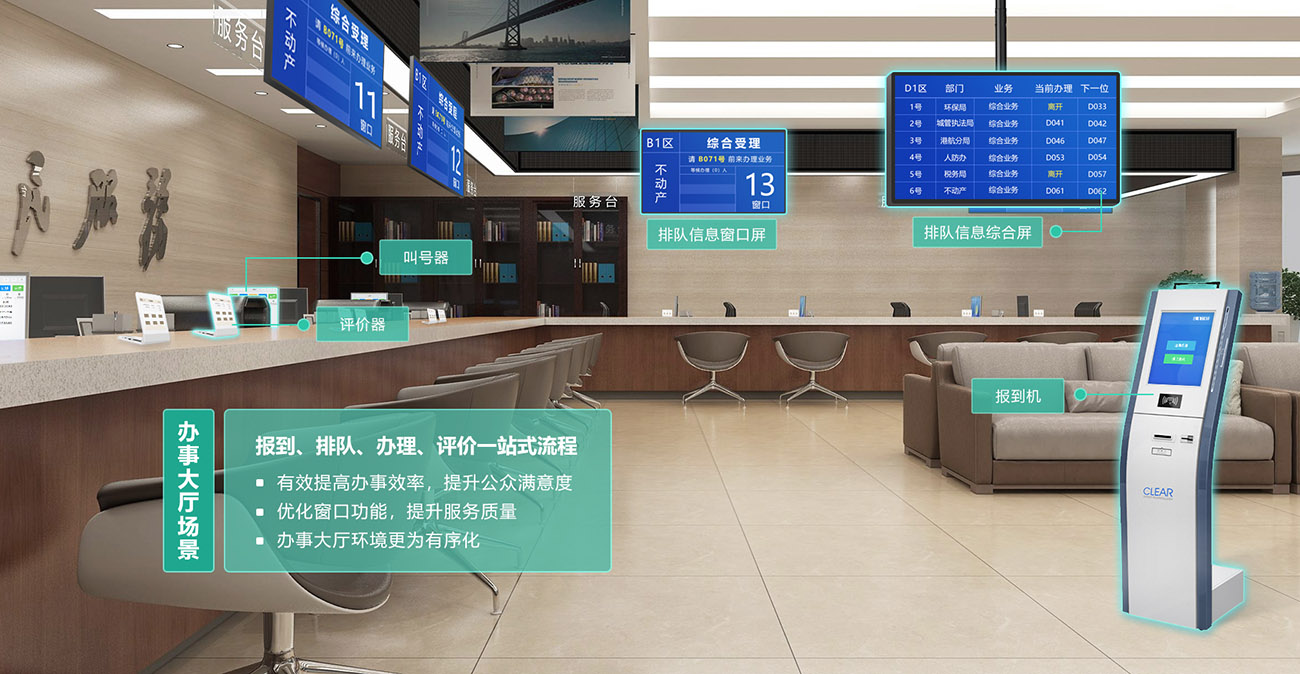 Queuing and calling machine
Intelligent queuing is the core part of the entire government central management platform system, and it is the center of coordination and control of other parts. The Queuing and calling machine uses the scientific management function of the automatic program to replace the manual queuing system, realizes multi-functional services such as online reservation, visitor identification, integrated number retrieval, voice broadcast, evaluation management, etc., to ensure the orderly and clear operation of the masses and staff , convenient.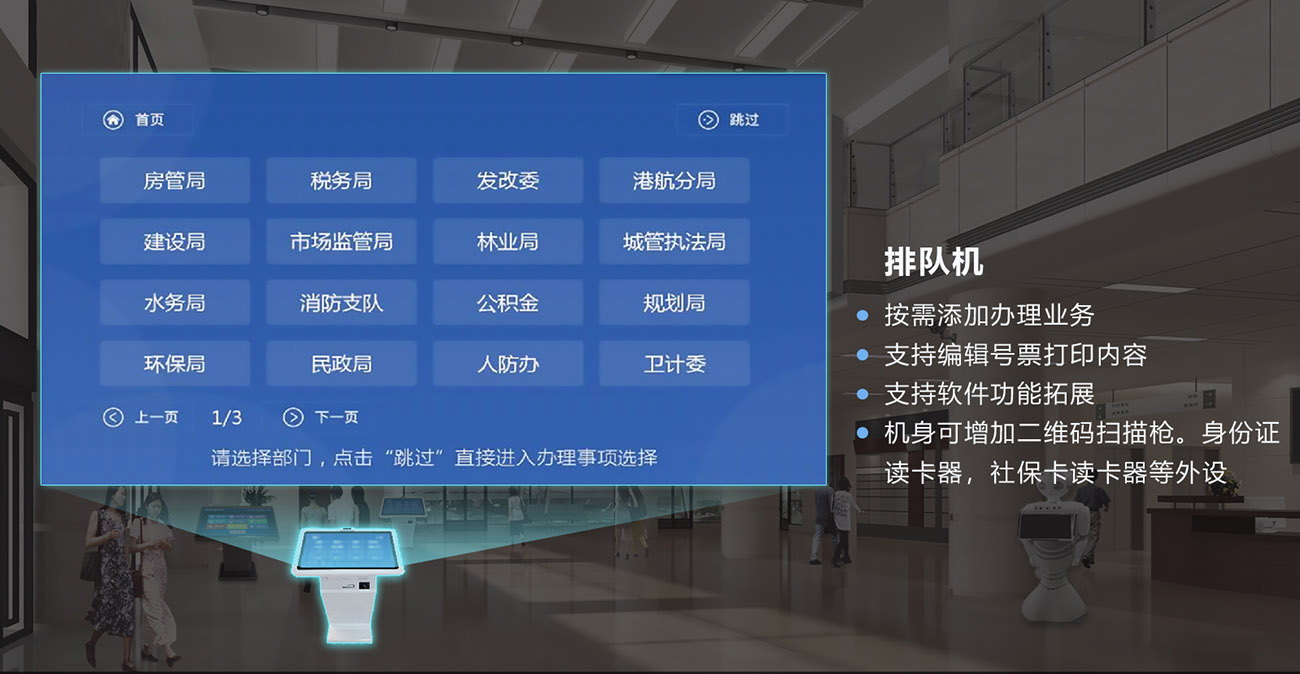 Window display
In terms of intelligent guidance, while displaying queuing information, the information release screen and window display screen can conduct floor guidance for each office department and business window based on the marking and indication of virtual map. It can also play the routine business process, weather forecast, government propaganda information of the government hall to ensure the diversification of convenience services.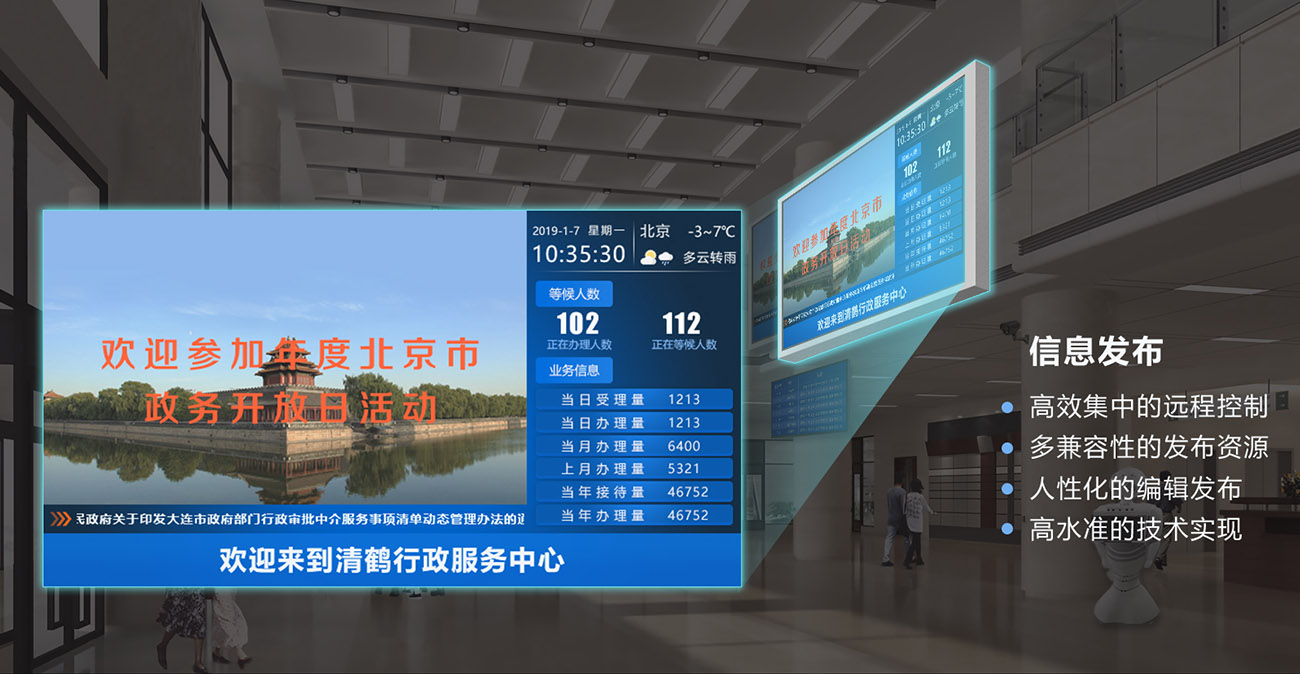 Touch inquiry machine
In terms of business quey, the masses can query, consult, navigate and browse the required services according to the detailed government classification of various departments on the touch query machine of the government service hall, greatly improving the fluency and experience ofthe masses to enter the hall, and helping the masses to easily achieve ''do one thing at a time''.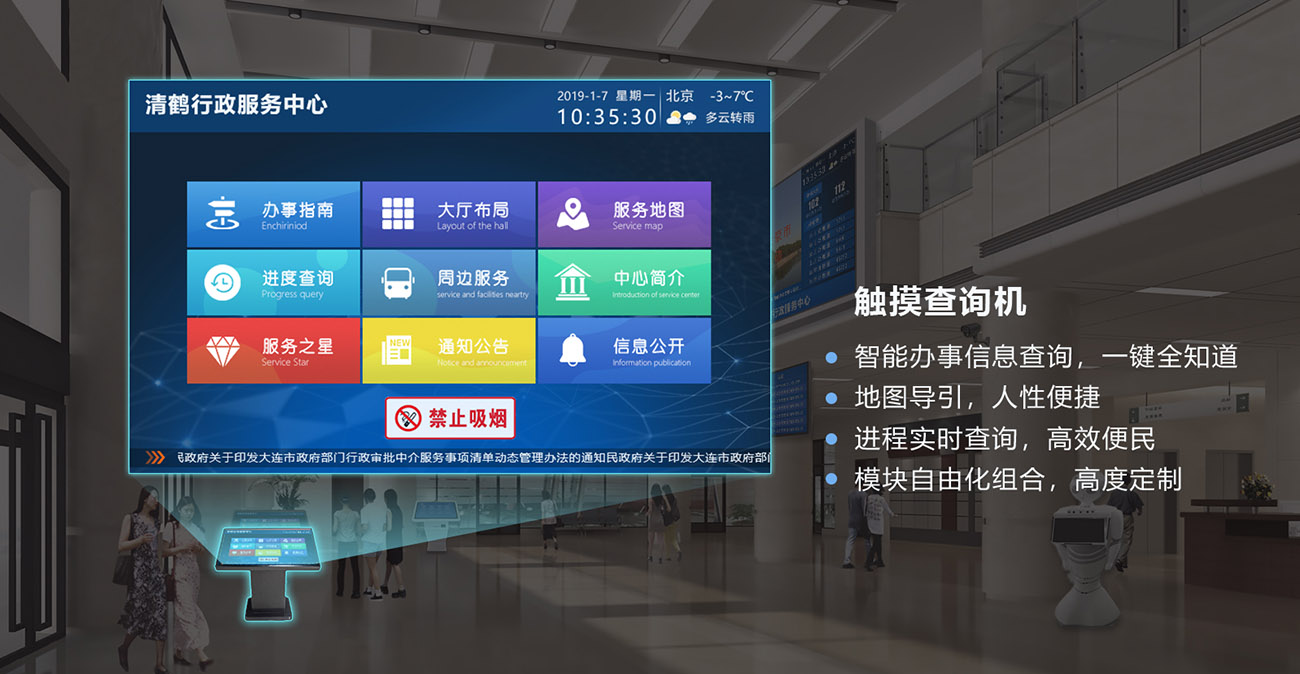 Self-service payment terminal
In terms of self-service, intelligent information equipment such as self-service terminal and electronic filling table can realize self-service declaration, form printing, office query, self-service payment and other functions of multiple items, improve the convenience and information level of examination and approval services, and explore a new mode of government service combined with online and offline.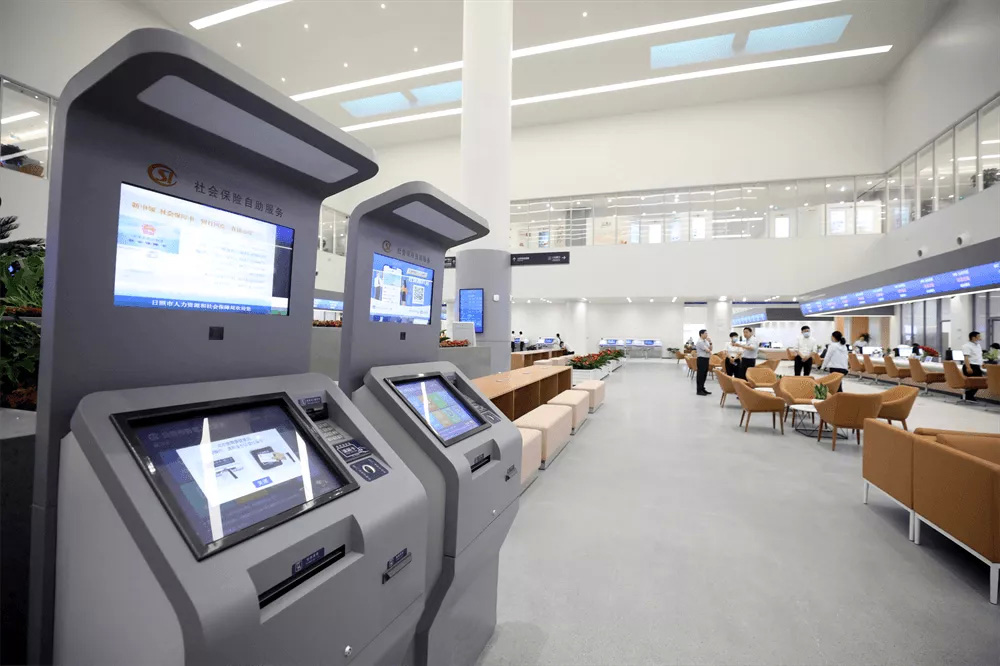 Smart government, smart window
The smart government solution is also applicable to the lobby services of various social service institutions, such as bank hall, traffic ticket hall, hospital outpatient hall, mobile communication business hall, large shopping malls and other places. In the construction of smart city, government agencies will play a major driving force, with the government first, driving the whole process of digitization and intelligence of various industries in urban economy and society, and realizing the all-round upgrading of smart city.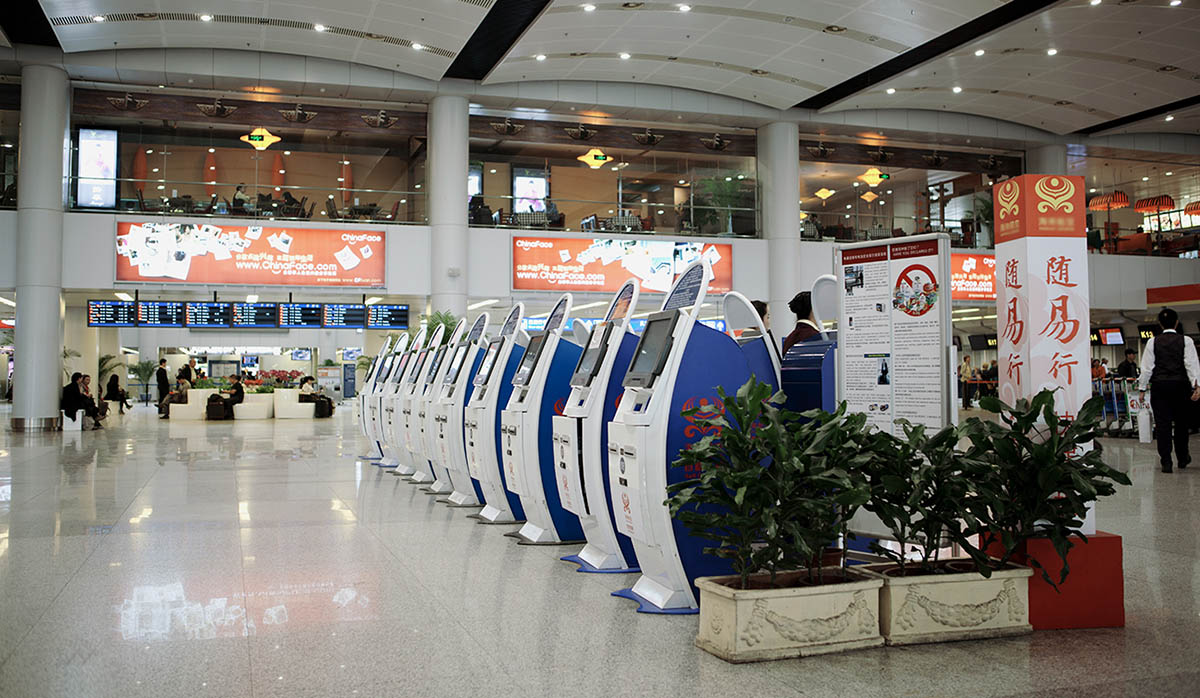 Complimentary close
''A city has the temperament of a city, and a city has the pattern of a city ''. Its temperament comes from its soul, and its pattern determines its future… A city full of wisdom is a city with stories. Kontech smart city solution integrates multi-industry and multi-dimensional solutions such as smart government affairs, smart transportation, smart medical treatment, smart banks, smart education, smart retail, smart scenic spots and so on. It uses new technologies to create a solid foundation for smart cities, empower new drivers of cities, help new urban upgrading, and create a new smart city with temperament and pattern.