Kontech and BOE collaborate again to deliver a new generation of prison TVs for the European market
Kontech's Manufacturing Division has recently announced that the partnership with BOE is well underway and that the delivery of custom Prison TVs has begun smoothly. The Prison TVs were procured by the European government for use in various prisons in Europe and the quality of the product meets the strict requirements and standards of European prisons.
This Prison TV from Kontech can be specially designed and customized for different countries, security standards and formats. It has a superb signal reception system, built-in DVD functionality and highly reliable buttons to ensure long-time stability in the prison environment. Its fully transparent body and transparent cable strictly comply with prison security standards and have no prohibited components.
Kontech's Prison TVs now account for more than 70% of the US market, while market share is continuing to grow in a number of regions, including Europe, Asia, Australia, Canada and South America.

Partnering with BOE to expand international markets
Kontech and BOE already have a deep foundation of cooperation in the field of intelligent customized displays. Since 2021, the two parties have worked together on a number of international customization projects. In this cooperation, the two parties continue to build on their respective strengths, combining Kontech's smart custom display technology advantages with BOE's international market resources to launch an in-depth cooperation in the European prison TV market, working together to provide the world's leading Prison TV solutions. In the next phase, the two companies will plan to cooperate more deeply in broader areas such as Smart Commercial Display and Smart Healthcare globally.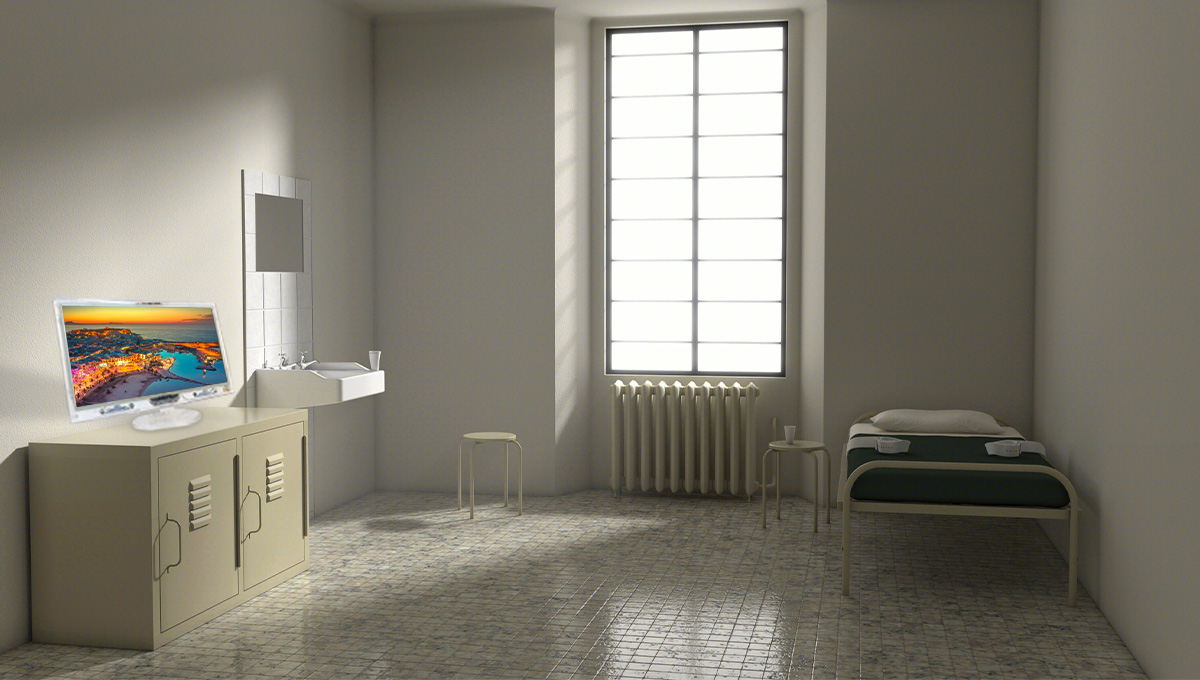 Kontech has a global presence with professional technology and good service
In the field of intelligent custom displays, Kontech has launched a series of world-leading innovative products and customized solutions, including Commercial Custom Screens, Outdoor Waterproof High Brightness Screens, Intelligent Terminals, Prison TVs, Solar TVs, Caravan TVs and Bathroom Waterproof TVs, etc. Kontech has won the trust of many world-famous companies and institutions, including Google, BOE, LG, Skyworth, KONKA and UEFA, etc., with its industry-leading, safe, reliable and high quality products and services. And Kontech also has worked with these organizations on a number of international projects and has formed long-term partnerships.
Kontech sets out for the future with innovation and vision
Many outstanding companies in the industry, such as BOE, have chosen Kontech, reflecting their full recognition of Kontech's comprehensive strengths. In the future, Kontech will better leverage its strengths in the field of intelligent custom displays to provide customers with cutting-edge comprehensive solutions for customized application scenarios. Kontech will also work with more quality partners to develop the global market and achieve a win-win situation for all parties, jointly promoting the technological development of China's intelligent display field and enhancing the global influence of China's intelligent display industry.
BOE Technology Group Co., Ltd.(BOE)
Founded in April 1993, BOE is an IoT company that provides smart port products and professional services for information interaction and human health. It has formed a diversified business portfolio of "1+4+N" with the semiconductor display business as the core, sensors and solutions, MLED, IoT innovation, and smart medical and industrial business integrated development.
As a leading company in the global semiconductor display industry, one in four smart terminals in the world currently comes from BOE, and according to Omdia, a global market research firm, BOE is already ranked No. 1 in the world in terms of shipments of displays for five major applications, including smartphones, tablets, notebooks, monitors and TVs, in 2021.
Kontech:
Kontech is a global leader in intelligent custom displays, with its services and products spreading across the global market. Its main products include Commercial Custom displays, Indoor High Brightness displays, Outdoor displays, Intelligent Terminals, Open Frame Monitor, Industrial Control Touch Screens monitors, etc. All of its products have passed international certifications such as UL, CB, CE, EMC, MEPS, ETL, etc.
Kontech has a professional R&D team with a strong innovation capability, accounting for more than 20% of the total number of R&D staff. Kontech has over 100 patents for utility models, software publications and designs.
With "industry-leading, safe, reliable and high quality" products and efficient customer service, Kontech is widely recognized and trusted by the global market. Its products have been exported to more than 100 countries and regions, including the USA, UK, Germany, France, Italy, Japan, Russia, Korea, Singapore, Hong Kong, China, etc. It has provided intelligent and customized display equipment to more than 200 partner companies worldwide, including BOE, LG, Harman Kardon, Skyworth, KONKA, UEFA and many other world-famous companies and organizations. companies and organizations around the world.
Kontech has been awarded as a national high-tech enterprise in China, a professional innovative enterprise in Guangdong Province, a national outstanding foreign-invested enterprise, and an A-class credit enterprise for the import and export of mechanical and electrical products in China.
Website:https://www.kontechgroup.com/
Email :sales@kontech.com.cn
SOURCE Kontech Electronics Co., Ltd